Currently, I am working on a new apron dress. My old one was in the bedroom that the boys so helpfully cleaned out. They didn't realize the importance of garb and probably threw it away. (Small price to pay for getting the job done. I'm not complaining too much.) I hope I can get this new one finished, or at least wearable, by War of the Wings. Here's the thing: my sewing machine died. I have to sew this apron dress by hand. While the old-fashion approach is certainly period, it is slow and full of suck. This is my first attempt at a flat-felled seam, which is coming along swimmingly. I'm loving the finished look it gives. However, it chews up more seam allowance than I thought when I was cutting, so the whole thing is too small. I have to put an additional strip in the back to get the garment around my huge tracts of land.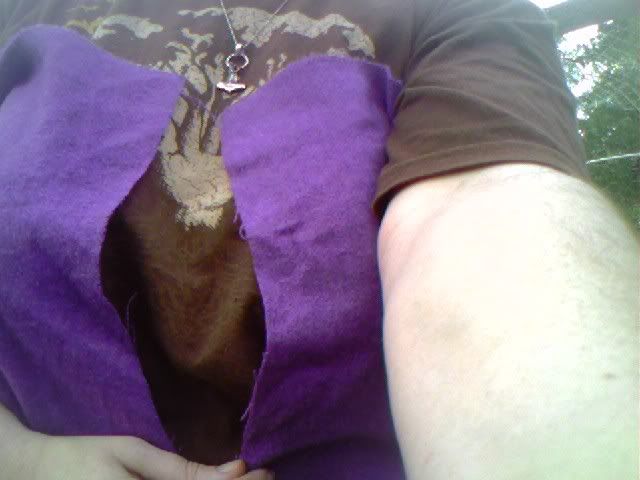 This is not really a problem because I have not sewn the back seam yet and the pattern requires gores in the skirt anyways. This was originally going to only take up half of the material, so I have almost enough left over for another entire dress. This time, I have plenty of wiggle room. The fabric I'm using is a heavy wool in bright purple.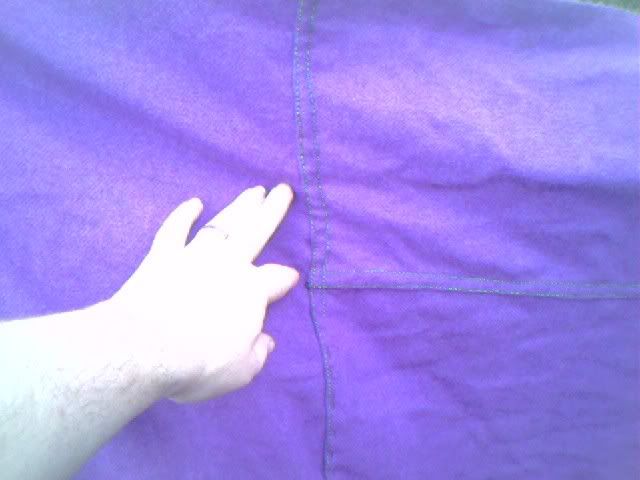 I can lead the St. Urho's Day Parade down the lanes of my subdivision. There is currently no St. Urho's Day Parade in my subdivision, so I hereby appoint myself the chairwoman of the planning committee and Mistress of Ceremonies for the procession. The time crunch plays a major role, though. War of the Wings is on the 9th through the 12th of October! And I don't know if Becky's tunic will still fit her, and she needs a cloak, because the nights will probably be quite chilly this time of year up in the high hills of Elchinburg Castle.